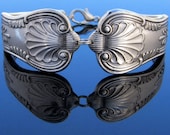 Ah, Kings hails from all the way back in the 19th century. Almost every company made a variation of this pattern in sterling, silverplate, and even aluminum. The Navy used it for years and people who worked for the navy got a set when they retired.. This is also a very common pattern used in classy restaurants because of it's very durable and weighty nature.
This Bracelet is a medium and measures...
Click Here to Visit My Etsy Shop!