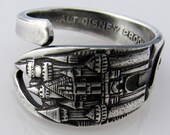 Struggling towards that happy ending? This Sterling spoon ring may help you stay on the right track! This adorable little ring was made from a demitasse size souvenir spoon.
The inside of this ring says Sterling and Walt Disney Productions. The smallest part of this ring is .141inches and the widest part is .41 inches. The widest part of the ring as a whole is .52 inches.
This ring we...
Click Here to Visit My Etsy Shop!