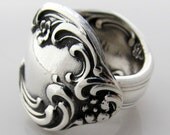 Wisteria is a young Reed and Barton pattern from 1968. This beauty is unmatched in designs. it's high relief gives way for beautiful patina on well aged pieces like these. This pattern is bold and sturdy. The wisteria vines create the border of the ring and encircle it's shiny mirror like center.
This ring was made by be in my sunny back room trailer studio mere minutes before the pictures were...
Click Here to Visit My Etsy Shop!